Understanding the Pros & Cons of Prenuptial Agreements
Dec. 28, 2022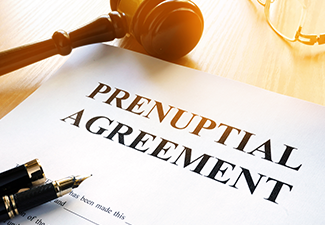 Establishing a prenuptial agreement allows unmarried couples to protect their assets, children, inheritance, and finances. Also, a premarital agreement can help clarify each party's responsibilities during the marriage and help couples achieve financial security and peace of mind. However, there are some downsides of prenuptial agreements that are not often talked about. A seasoned Louisiana family law attorney can inform you about the pros and cons of prenuptial agreements.
At the Law Office of Ivy L. Graham, we enjoy providing knowledgeable guidance and advocacy to clients in the legal matters of family law and marital agreements. Our practiced attorney will be available to discuss your situation, help you understand what a prenup can or can't do, and determine whether it is right for your relationship. We're proud to serve clients across Denham Springs, Albany, Livingston, Holden, and Colyell, Louisiana.
What Is a Prenuptial Agreement?
A prenuptial agreement – also known as a premarital agreement or prenup – is a written marital contract entered into by unmarried or engaged couples before tying the knot. In the event of a relationship breakdown (divorce or separation) or after the death of one spouse, a prenup can help clarify the rights of each party and establish how their property, assets, and finances will be distributed.
What Can Prenuptial Agreements Do?
A premarital agreement can help you and your partner achieve the following:
Clarify how your finances, household bills, and living expenses will be shared.

Establish the duties and expectations of each spouse.

Protect your estate plans.

Determine property division in a divorce or legal separation.

Make adequate provisions for minor children from a previous relationship or marriage.

Protect one spouse from the other party's debts or liabilities.

Ensure that the family business, inheritance, and property stay within the family.

Plan for the uncertainties of life.
What Don't They Cover?
However, while a premarital agreement helps unmarried couples achieve several things, it doesn't cover the following:
Details about personal matters

Divorce matters regarding child custody, child support, or parenting time.

The premarital debts of either spouse.

The rights to relinquish spousal support or alimony.

Provisions about anything that is illegal, unlawful, or against public policy
A skilled attorney can enlighten you about the benefits and downsides of prenuptial agreements and guide you and your partner through the process of drafting one.
What Are the Benefits of a Prenuptial Agreement?
Here are some benefits of having a prenuptial agreement:
It allows you to avoid unnecessary arguments or hostilities over asset division following a divorce.

It can help protect your personal property.

It protects you from your spouse's debts and liabilities in a divorce.

It allows you to have an open and honest pre-marriage conversation with your spouse about the things that matter to you.

It helps protect your personal property and financial interests, especially when you're entering a marriage with great wealth.

It helps reduce legal costs and makes divorce less complicated.

It helps protect your kid's inheritance rights and family business.
What Are the Drawbacks of a Prenuptial Agreement?
Here are some drawbacks of having a prenuptial agreement:
There is an air of uncertainty that forms around your marriage. You will become unsure whether your marriage will last for a long time.

Establishing a prenuptial agreement can ruin the romance or create a feeling of distrust.

It will not hold up in court – if it contains provisions or clauses that violate the law.

For some people, a prenup can be a trap.

It can create a burden for some spouses due to changes in circumstances.

It doesn't include child custody or child support issues.
A practiced Louisiana pre- & post-nuptial agreements attorney can evaluate your unique situation and determine if having a prenuptial agreement is right for your personal situation or relationship.
Goal-Oriented Legal Counsel
Before getting married, engaged couples are often advised to create a prenuptial agreement to protect their assets and finances. However, it is important that you know the benefits and drawbacks of premarital contracts before you draft or enter into one. At the Law Office of Ivy L. Graham, our attorney has the knowledge and expertise to advise and guide unmarried couples through the complex procedures involved in drafting prenups.
As your legal team, we can help you understand what they cover, what they don't cover, and why you may need one. Also, our attorney will outline a strategic plan to protect your accumulated assets, finances, children, and future. We will guide you through every legal process involved in drafting a premarital agreement and ensure that it is valid, meets all legal requirements, and is fair to both parties.
Do you need assistance drafting a prenuptial agreement? Contact the Law Office of Ivy L. Graham today to arrange a consultation with a wise prenuptial agreements attorney. We can have the personalized legal counsel and trusted advocacy you need to make intelligent decisions. Our firm proudly serves clients across Denham Springs, Albany, Livingston, Holden, and Colyell, Louisiana.