Pitfalls of Self-Represented Divorces
Aug. 15, 2023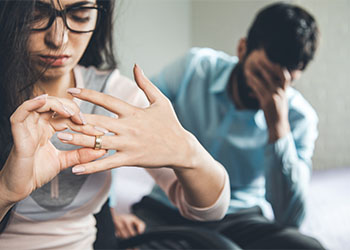 A divorce is not only a painful and emotionally stressful experience but also a potentially costly one. The cost of legal expenses included in the divorce process can sometimes lead to people feeling tempted to just represent themselves and forego hiring a divorce attorney. Even in less contentious and amicable divorce situations, self-representation is not your best option, for a variety of reasons.
If you are considering a divorce in the Denham Springs, Louisiana, area, including the surrounding communities of Livingston, Colyell, Holden, or Albany, working with an experienced family law attorney is important. At the Law Office of Ivy L. Graham, you can get the dedicated representation you need to ensure your rights are protected and your best interests are prioritized throughout the divorce process. Reach out to our team today to schedule a consultation to discuss your situation.
What Is a Self-Represented Divorce?
A self-represented divorce (also referred to in legal terms as a "pro se" divorce) is a divorce in which a party in the marriage chooses to represent themselves in the legal process rather than hire an attorney to represent them. There is no legal requirement for you to hire an attorney in your divorce. There is, however, a wide range of factors you need to consider before you think about going through the process on your own.
Potential Pitfalls
As with any legal issue, divorce law often involves complicated aspects, which is why people decide to hire attorneys in the first place. With the outcome of your divorce having a long-lasting impact on your life in a variety of ways, it is wise to think about the possible challenges you could face if you are considering representing yourself. Here are some potential pitfalls.
Proper Documentation
If you have had any other experience with legal matters in your life, you are likely aware that any type of litigation involves large amounts of paperwork, often including official forms and documents that must be drafted and/or filed in meticulous detail. Without professional legal experience—and while going through a stressful experience like a divorce—it can be very easy to make a mistake or fail to file specific documentation entirely.
Financial Consequences
Though many people assume choosing not to hire an attorney will save them money, you could run into costly consequences by representing yourself. Not knowing which assets you may be entitled to could result in missed opportunities for yourself and your children.
Unexpected Problems
If your spouse does something unpredictable—financially, legally, or decisions involving your children, for example—you may not be equipped to know how to respond or what your legal options may be.
Lack of Support
It can't be overstated how important it can be to have someone on your side during your divorce. Having an attorney in your corner who is solely focused on looking out for you and your best interests can provide you with the support and counsel you need during a trying time.
Legal Complexity
Issues involving legal proceedings are rarely simple. The very reason attorneys exist is to make sure people who are inexperienced in legal matters are able to find their way through what can sometimes be a long, drawn-out, and confusing process.
Our Clients Matter Most
Going through a divorce is already difficult enough without having to worry about handling the process on your own. There are complexities woven into the law that you may not be equipped to navigate. Working with a knowledgeable divorce attorney can give you peace of mind even in the middle of one of your life's most challenging times.
Our team at the Law Office of Ivy L. Graham is dedicated to providing individuals and families with strong legal representation in a wide range of family law matters. If you are considering filing for divorce, have been served with divorce papers by your spouse, or are already in the middle of a divorce and need representation, we are ready to help you. We proudly serve clients in Denham Springs, Louisiana, as well as the nearby areas of Albany, Holden, Colyell, and Livingston. Contact us today to get started.